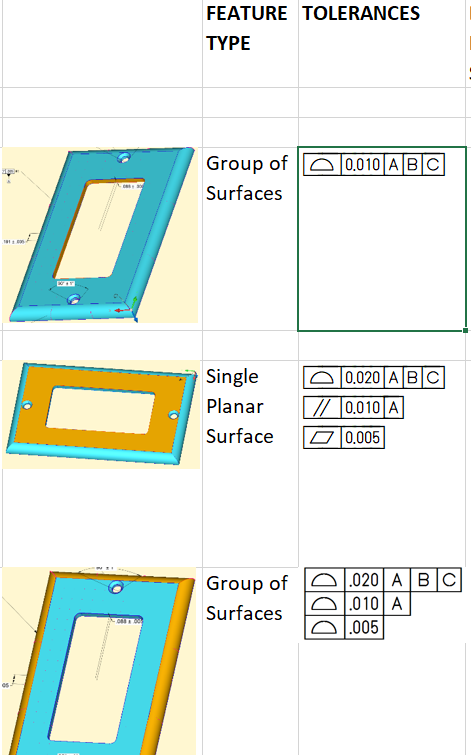 Dimensional Design Review: Have your drawings thoroughly reviewed by an experienced GD&T expert:
Check for correct use of GD&T symbols, modifiers, and syntax according to ASME Y14.5-2018 or other applicable dimensioning and tolerancing standard
Validate datum reference frame definitions for proper sequencing
Identify non-optimal tolerance types and suggest alternatives
Identify specifications likely to cause difficulties in manufacturing or inspection
Evaluate how well the GD&T specifications capture the intended fit and function
GD&T Coding: The Axymetrix consultant works as a resource for your design team to handle the details of GD&T specifications:
The designers are asked a series of questions on the intended fit and function requirements of the part (mating part relationships, assembly sequence, clearances, flushness and alignment requirements, etc.)
The GD&T consultant converts this information into standard-compliant GD&T code that captures the requirements. Different options are provided in many cases.
Different options are usually provided for review along with manufacturing, quality, and supplier representatives.
Tolerance Stackup Analysis: The Axymetrix consultant performs detailed calculations on critical dimensions of the client's assemblies. The cumulative effect of detail part variations and assembly methods are systematically calculated using both worst-case and statistical methods, with the results documented in easy-to-read spreadsheet and diagram formats.